The triumph of Triumph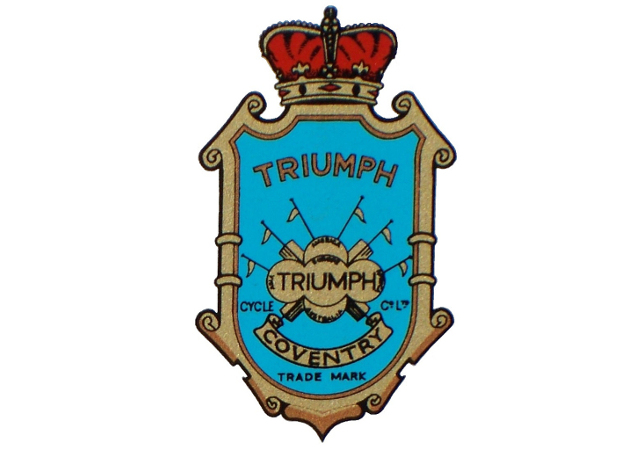 Triumph Motorcycles. What is not to like about these fabulous machines.
My first bike was a Triumph. Mostly a Tiger Cub but with some parts from unidentified sources. I would like to give it a year but again that slipped a little with a '65 frame and the majority of a '67 motor.
It ran, with a little cloud of hazy blue smoke, and it didn't leak oil. Not too much. The occasional drip marking its spot. I joined the navy and the little Cub was put into my parent's garage, where it stayed until a fire gave it a Viking funeral it didn't deserve and it was consigned to the wreckers.
I didn't think too much of it. I was sad but more concerned about my parents loss. Now, I'd give anything to have the little Cub back in my garage.
First founded in 1885 Triumph have been though through a few different guises and tripped over a couple of times but have been in continuous manufacture ever since. They first put an engine into a bicycle frame in 1902 which is considered the real start.
Triumph survived and flourished through the first and second World Wars, depressions. It was bought out by BSA in the early 50s and continued manufacturing iconic machines until BSA went bankrupt in 1971. Through a couple of forced marriages Triumph staggered on until it became part of a government sponsored disaster called Norton Villiers Triumph which finally fell over, spent, in 1983.
Along came the savior, John Bloor, who went to an auction to buy the old factory, decided to buy the company and start manufacturing again. Thanks to a licensing agreement Triumph bikes were still being produced even when the parent had folded. Thanks to that, and Bloor's relaunch Triumph can proudly stand as the world's longest continuous production motorcycle manufacturer, beating that 'other' motorcycle manufacturer by twelve months.
Triumph Motorcycles, did I mention that I love them. The new and the old, their survival against the odds, that plucky British bulldog spirit dragging them to their present success.
Like Ben Davis in The Picture I own a 1600cc Thunderbird. It pulls like a loco and never fails to put a smile on my face. Unlike Ben I don't have a '57 Thunderbird, but it's on the bucket-list. For now I would be just as happy to have my wheezy, spluttering Cub back in the shed such is the hold a first love holds. I should have appreciated it more when I had it but I didn't.
Many people regret something that they didn't realize they would until it is too late. What's yours?
Fun Fact: Ford licenced the name 'Thunderbird' from Triumph in 1955, not the other way around as some think.