The Sadness of the Missing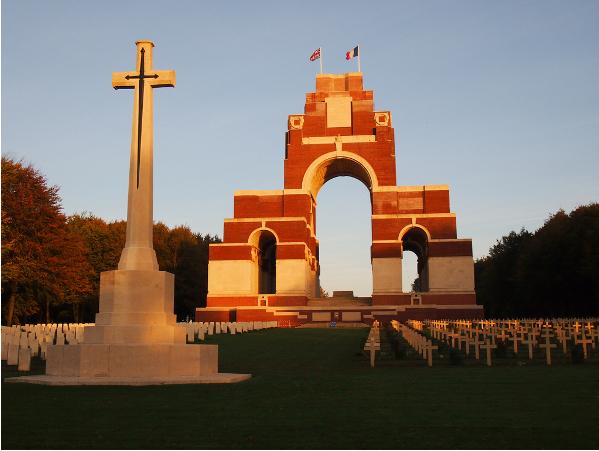 A few years ago my wife and I traveled in Northern France. An emotional trip, around every corner there seemed to be yet another War Cemetery. Headstones, row on row, immaculately lined up with the briefest of facts and a short quote the families were allowed to add.
The knowledge of what to expect had not really prepared me for the number of these cemeteries and the memorials, unheralded but cared for, spread across the landscape.
No matter how many we saw I never got the feeling of 'oh yeah, another one'. Big or small they were all individual and all had their own story and sense of tragedy.
My senses reached a place, past fascination, of sadness as I read the ages of the fallen, 17, 18, 19 years of age came up all too frequently.
I thought my sadness had reached its level until we walked around Thiepval. There are graves there in neat rows, about 250 of each, French and British lying in silent memory of the real purpose of the Memorial which is to remember the more than 72,000 British and South Africans who marched into war and disappeared, who have no known grave, and Thiepval is only one such memorial to the missing.
Can we imagine today in any war where 72,000 soldiers just disappear, there would be a public outcry, it would be an absolute scandal. Forget 72,000, the MIA of the Vietnam War number about 2,500 and that is still a tragedy.
When I was writing Psychosis I researched missing person in the US and the numbers while not a surprise left me with a similar sense of sadness Thiepval had.
At any given time about 85,000 people are missing in the US, nearly equally split between male and female and about one third of them are under 18. That is the numbers for people reported as missing, many are not and the figure is probably double that.
People disappear for many reasons. Deciding to reinvent themselves in a different town and community for any number of reasons; running from a crime, running from a previous life, running to a new life. For whatever reason, it isn't against the law if they choose to make a change for themselves.
The real tragedy are people who haven't decided for themselves, who are abducted and kept against their will, murdered and buried or their remains destroyed. All they leave behind is an empty space and myriad unanswered question in the hearts of those who cared about them.
What can be done? Probably nothing more than is already being done, and if adults have decided to reinvent themselves we have no right to stop them.
There are no statistics beyond 'missing' and we may never know what has happened to someone unless their remains are found or they get in touch.
The emptiness must be terrible for those left behind, as it was for the families of Thiepval or of the Vietnam MIAs.