The Unknown Australian Soldier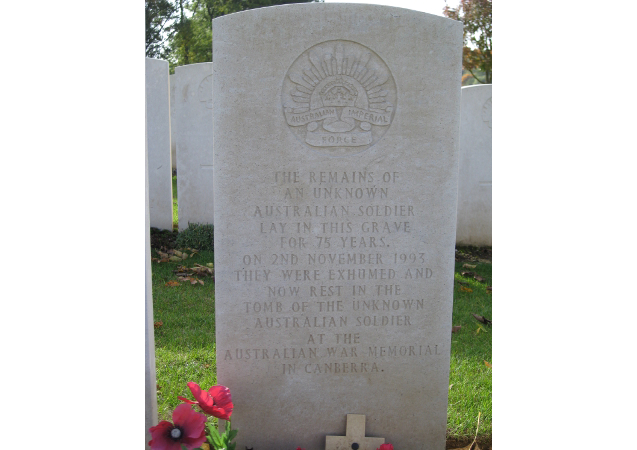 In 1988 I visited the Australian War Memorial in Canberra. It is full of history, exhibits and dioramas giving a wealth of information about wars that Australia has fought in. The centre piece of the Memorial is the Hall of Memory, a cavernous, domed space surrounded by stained glass windows on three sides and mosaics between them. Each panel of glass and each mosaic represents an aspect of the service men and women who are commemorated in the whole Memorial. It was an empty space, but so filled with emotion I couldn't stay for too long. The Hall was to become a part of my own journey unknowingly following in the footsteps of the Unknown Australian Soldier.
I have written previously of my wife and I visiting Northern France and the affect the cemeteries and memorials had on us. None more so than the Australian National Memorial. In late April 1918 two Australian Brigades recaptured Villers–Bretonneux from the Germans who, had the Australians not stopped them, would have had an open road to Amiens and Paris. 1200 Australians died and the town has never forgotten them.
Away from the main memorial and cemetery lies Adelaide Cemetery which was a place of reburial, re-interring soldiers who had been buried where they had fallen. The cemetery now contains 960 graves, 266 of whom are unknown. And one empty plot.
I walked along the rows until I came to the one pictured above and as I read the inscription I felt the same overwhelming feeling of sadness I had felt in the empty Hall of Memory.
Travelling from an unknown Australian town on an unknown date he had travelled halfway around the world to die somewhere near this place. Probably hastily buried he had been dug up and reburied in this plot. After 75 years he had been dug up again, placed in a plain Tasmanian oak coffin to begin his journey home. He lay in state at Villers-Bretonneux and the Menin Gate at Ypres before being returned to Australia, spending another three days lying in state at the Old Parliament House.
On Remembrance Day 1993 he was finally laid to rest in the centre of the Hall of Memory where he remains.
Visiting the War Memorial again in 2015 I went back to the Hall of Memory. As I entered I expected the same feelings of dread but the Hall seemed lighter and with a different atmosphere. It was as if the empty Hall had known something was missing but now the soldier was home there was a sense of completion. It wasn't a grave, it was a link to the remaining 46,000 Australian graves in France and Belgium and by honouring him we honour them.
As then Australian Prime Minister Paul Keating said in 1993 at the interment service.
'He is all of them. And he is one of us.'