A
lifelong writer Patricia M Osborne's debut novel, set in the 50's and 60's is described as
a beautiful, gripping novel spanning generations. Sensitively drawn characters that it is impossible not to care about.
Could you tell us about yourself?
Hi Roger, thank you for inviting me on your blog. I'm married with three grown up children and five grandchildren ranging from eighteen years to three months.
How long have you been writing?
I don't remember a time when I wasn't writing. I won my first poetry competition around aged six. Regular writing began in 2011, once I started studying creative writing for my BA degree via The Open University. I've become a more established writer since 2014 when my MA Creative Writing journey began with The University of Brighton.
Tell us about one of, or your most recent book?
My debut novel, House of Grace, A Family Saga, is the only book published at this time. House of Grace is told in two parts and set in the 1950's and 1960's and is the first in a trilogy. The reader travels with Grace from a sixteen-year-old girl to a woman, through family conflict, poverty and tragedy.
What do you love about writing?
Stepping into any character and another world to create stories.
How do you get inspired/ where do you get your ideas?
I like to use memories from my childhood in the sixties, walks in the park and around the lake, and photo prompts help if I still need a push.
Do you have a specific writing process?
I use mind maps to help me plot and I write longhand in a notebook until I'm in character and then I type straight into Word on the computer unless I get to a difficult scene. For poetry I always write in a notebook for the first draft.
Do you have any advice for aspiring authors?
Believe in yourself and make sure you read. You can't write unless you read. Don't be despondent by rejection, it happens to all writers. And make sure you get feedback from other writers.
What are you currently working on? How long before release?
I'm working on the next book in the trilogy to House of Grace. It's titled The Coal Miner's Son and rather than being a sequel to House of Grace, it runs alongside. The final book, no title yet, will be the sequel to both. I was hoping it would be released by March 2018 but that may be a tad ambitious, June 2018 is probably more realistic.
What are you currently reading?
I'm just about to start Matt Haig's, How to Stop Time.
Who are your favourite authors?
Bernard Cornwell, Stephanie Meyer, Ken Follett, Kazuo Ishiguro. However, I tend to read books from a wide range of authors as I belong to a Book Club, we each choose a book a month. For example, All The Light We Cannot See is probably my favourite novel, but this is the only book of Anthony Doerr's that I've read.
Do you have any favourite fictional characters?
Uhtred of Bebbanburg from The Last Kingdom and Edward Cullen from the Twilight series.
Any fun facts about you that you would like to share?
I like rock and roll, Latin American and Ceilidh dancing, although since breaking my hip two years ago I need to be careful. I sing in a community choir and I attempt to play the piano. I love to dabble with the paint brush but alas lack of time prevents this, and I like photography. I love acting and dressing up, I always wanted to be an actress but being a writer is the best job. It took me a while to find my vocation and believe in myself, but I got there in the end.
Find out more about Patricia on her WEBSITE or on


   or 

And here is a bit more about her book.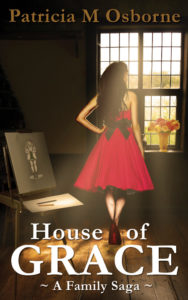 It's 1950 and all sixteen-year-old Grace Granville has ever wanted is to become a successful dress designer. She dreams of owning her own fashion house and spends her spare time sketching outfits. Her father, Lord Granville, sees this frivolous activity as nonsense and wants to groom her into a good wife for someone of his choosing…
Grace is about to leave Greenemere, a boarding school in Brighton. She's blissfully unaware of her father's plans when she embarks on a new adventure. The quest includes a trip to Bolton's Palais where she meets coal miner, Jack Gilmore. Grace's life is never the same again.
Travel with Grace through two decades as she struggles with family conflict, poverty and tragedy. Is Grace strong enough to defy Lord Granville's wishes and find true love? Will she become a successful fashion designer? Where will she turn for help?