Jenny Kane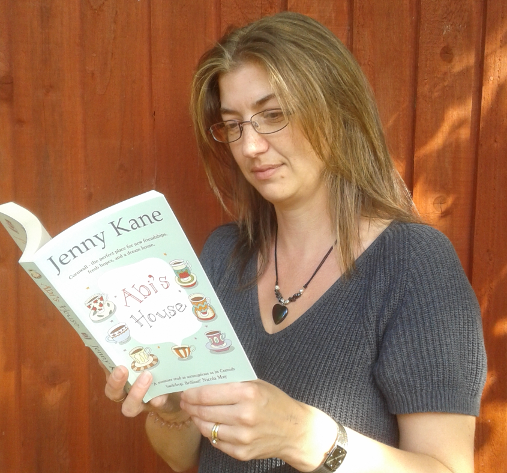 From the comfort of her cafe corner in Mid Devon, Jenny Kane wrote the contemporary women's fiction and romance novels, Romancing Robin Hood (2nd edition, Littwitz Press, 2018), Abi's Neighbour (Accent Press, 2017), Another Glass of Champagne (Accent Press, 2016), and the bestsellers, Abi's House (Accent Press, June 2015), and Another Cup of Coffee (Accent Press, 2013).  She has also written 3 novella length sequels to her Another Cup of…..books: Another Cup of Christmas (Accent Press, 2013), Christmas in the Cotswolds (Accent, 2014), and Christmas at the Castle (Accent, 2016). These three seasonal specials are now available in one boxed set entitled Jenny Kane's Christmas Collection (Accent, 2016).
Jenny is also the author of quirky children's picture books There's a Cow in the Flat (Hushpuppy, 2014) and Ben's Biscuit Tin (Hushpuppy, 2015)
Under the name Jennifer Ash, influenced by a lifelong love of Robin Hood and medieval ballad literature, Jenny has written The Outlaw's Ransom (Book One in The Folville Chronicles) – a short novel, which first saw the light of day within the novel Romancing Robin Hood, Book Two of The Folville Chronicles – The Winter Outlaw and Book Three – Edward's Outlaw.
Jennifer has also written four audio scripts for ITV's popular 1980's television show, Robin of Sherwood. The Waterford Boy and Mathilda's Legacy, The Baron's Daughter and The Meeting Place were released by Spiteful Puppet in 2017 and 2018.
Jenny Kane is the writer in residence for Tiverton Costa in Devon. She also co-runs the creative writing business, Imagine.
Could you tell us about yourself?
Thank you for inviting me to visit today Roger.
I've been a published author for just over thirteen years. When writing romantic comedies or children's picture books my name is Jenny Kane. When I'm penning medieval murder mysteries or audio scripts, I go by the name of Jennifer Ash. Sometimes I have another author name entirely. Very occasionally people use my real name!
Which is your favourite genre to write and why?
That is a very difficult question as I write every genre except westerns, sci-fi, fantasy and horror. I just love the variety of having so many different styles of story on the go. Can they all be my favourite please?
What is the best part about writing, and the worst?
I always struggle when I get to the 10,000 word mark. This is usually the transition point from the introduction to the meat of the story, and I often worry that it isn't seamless enough or action packed enough. I spend longer poring over this part of any novel than any other bit.
Tell us about one of, or your most recent book.

In December, the third volume of The Folville Chronicles, my medieval murder mystery series, came out. Entitled Edward's Outlaw, this fourteenth century story is set in the East Midlands of England- in this case, largely within the crime ridden walls of Rockingham Castle.
Tell us about your main characters. Are they based on real people or a product of the imagination?

The Folville Chronicles are based on a real criminal gang from the fourteenth century England. A family of seven brothers, the Folvilles were notorious for their criminal activity and mafia style rule of the county of Leicestershire. My stories are based on real historical events which have been adapted to be seen through the eyes of Mathilda of Twyford, a potter's daughter from Twyford in Leicestershire, who was kidnapped by the family after her father became in debt to them.
I first came across the Folville's while I was researching a PhD on Robin Hood and criminals that could have inspired his early ballad history.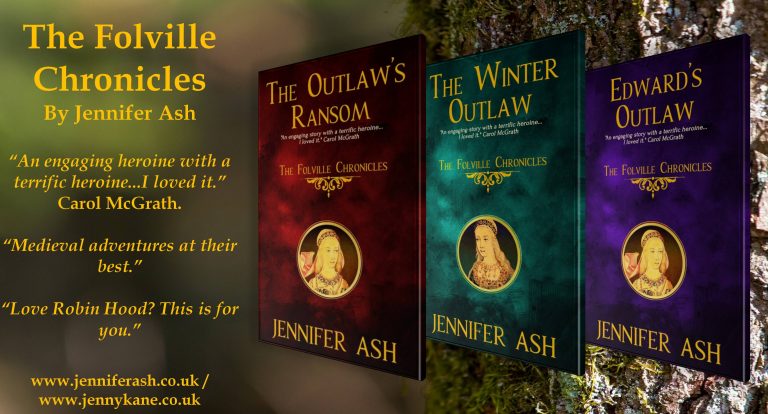 What are you currently working on? How long before release?
I have just started to write a new romantic comedy. It has been three years since I wrote in the genre, so it's nice to visit the discipline again. At the present time, I have no release date set. There will also be another Folville novel next year.
Do you have an office or 'space' where you write from and is it at home, or elsewhere?
I have a desk in the corner of my local Costa Coffee, where I'm the writer in residence. I'm very lucky to have such a space all to myself. Writing can be a very lonely business, so it's great to be able to work alone, but within an active community space.

When you have finished writing the book – what do you do next? By that I mean, do you edit the book yourself? Do you design your own book cover? Do you prepare a project plan to market your book?
As soon as I've finished a book I hand it over to my editor and await his verdict with anxious anticipation. While he is reading my work, I start to organise a blog/marketing campaign for that work, while simultaneously starting to write the next novel. It is rare that I go more than 12 hours without a novel being on the go.
Any facts about you that you would like to share?
As well as writing, I co-run a company, Imagine, which helps others reach their writing dreams. In 2019 we are running a writing retreat on Exmoor from 9th-11th October.
Last year we had a wonderful time at Northmoor Victorian manor. If you'd like to join us this year, just check out the website.
Opening Lines on your blog sounds fascinating, can you tell us a bit about it. Can authors contact you to become involved?
Opening Lines has been my most popular blog series so far. The idea came to me while I was teaching some of my creative writing students about the importance of the first 500 words of any story.
I've been blessed with some incredible stories on my site so far.
If you haven't read any of the Opening Lines blogs, a new one goes live every Thursday. At the current time I am not looking for new authors as I'm fully booked until May. However, I will be putting a call out for fresh opening lines in April- if you are interested keep an eye on my Facebook page in the spring.
Thanks for taking the time to talk to me Jenny and good luck with your current work.
You can find Jenny's books on Amazon and catch up with her on social media.