Susanne Haywood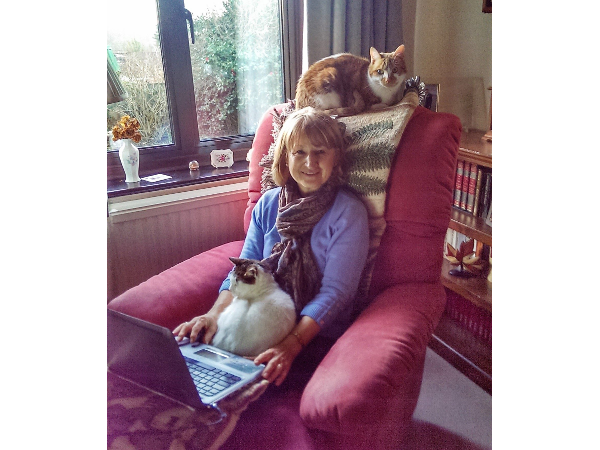 Susanne Haywood was born in Austria and lived in Scotland, England, Australia and in the United States before returning to southern England, where she lives with her husband and a variable number of adult children and pets. After a career in higher education, she now devotes her time to writing — unless the sun shines, when she can be found outside, walking the dogs and digging in the garden.
Could you tell us about yourself?
I grew up in Austria, but after my undergraduate degree in English and French I moved in Glasgow, Scotland for my first job. I understood very little there for the first few weeks. Even the radio defeated me right from the start: the first programme I ever tuned into was the shipping forecast! I did, however, manage to join a Scottish dancing club, where I met my husband. We moved to the South of England so I could understand people and because the climate is milder there. We had three children before we decided to emigrate to Perth in Western Australia. That was where Tigger the ginger tomcat joined our family. More about him later. After five years in Perth, during which the children attended primary school and I completed a Ph.D., my husband received a tempting job offer from the USA and we moved to Southern Maryland, just outside Washington D.C.
We spent two years there, and as I was classed as a 'dependent alien' I wasn't allowed to work. This gave me the chance to publish my Ph.D. thesis as a book with a German publisher (really well received and resulted in lots of citations) and to make a first, tentative start on a novel set in Australia. We were just finding our feet when the company announced they wanted someone to work for them from Australia, so back we went, to Melbourne, where we stayed for over ten years. I worked at the University of Melbourne in International Relations, travelling far and wide, building research bridges with universities in China, Japan, Korea, the Americas and New Zealand, while gathering lots of airmiles at a time when they were still worth gathering. But I also joined my first Writers Group, which was incredibly encouraging and helpful to me in honing the craft I'd always loved. My creativity was further fuelled by the fact that we lived the Australian dream in a lovely, rural area outside Melbourne on a small farm with lots of gum trees, horses, sheep, dogs, and a small, white kitten in addition to the well-travelled Tigger. There were plenty of kangaroos, echidnas, wombats and snakes, too.
Around the time when our eldest graduated from university and our youngest from high school I received a job offer from the University of Surrey in Guildford, which provided an excuse to move back to England, to the small West Sussex village where we are still. I am now retired and should theoretically have lots of time to write. Sadly, I find it hard to say an emphatic 'no' to the many (unpaid!) community involvements on offer, to the effect that I seem to be busier than ever.
Tigger, Tammy the little white kitten and the two dogs came with us from Australia, but all except Tammy have passed over the Rainbow Bridge since our return. We have adopted another cat, Bilbo the ginger tomcat, but haven't the energy to commit to more dogs. Our three children are all married now: we have acquired Canadian and Australian sons-in-law and a Slovakian daughter-in-law, to continue the cosmopolitan theme in our family. In January we became grandparents, and the next grandchild is due at Easter, so my priorities are shifting once again. The plan is to reduce the community involvement, increase family commitments and keep my writing on an even keel. Wish me luck!
When did you first decide to write and what got you started?
I've always loved reading and knew all my children's books by heart by the age of four, even to the point of knowing exactly where the pages had be turned. At school, I loved writing stories to amuse my teachers, and when I was 13 I wrote a novella which I now recognize was dreadful, but at the time considered pretty brilliant. My parents were wary of my literary aspirations, encouraging me instead to get a proper job, which almost succeeded in keeping me from writing for pleasure for the best part of 30 years. But not quite.
In Maryland, with a growing number of friends all over the world, the annual Christmas card battle began to get out of hand, so we started writing annual newsletters instead. Each family member wrote their own column, and it occurred to me that Tigger should have his own column also. It turned out that Tigger's column was by far the most popular, and before long he received more mail back than the rest of us. In Melbourne, while I was working part-time for a couple of years, I began to write up his Christmas columns as a continuous memoir. The rigorous feedback by my Writers Group helped me find Tigger's voice and point of view. I sent the manuscript to a small number of publishers, but received no joy, and once we'd moved to the UK I decided to self-publish Tigger: Memoirs of a Cosmopolitan Cat, which has been well-received. It sold well over 1000 copies (real and electronic) and won the 2017 Bookangel Award for books featuring cats of distinctive character.
What is the best part about writing, and the worst?
The best: creating a new world and filling it with characters of your own imagination, who (mostly) do what you planned for them. Receiving positive feedback from a professional. The feeling that you can do this.
The worst: getting stuck in your plot and falling out of love with your characters. Receiving a rejection from an agent or publisher, even if it is kind and provides useful feedback. That sinking feeling: why on earth am I bothering?
Tell us about one of, or your most recent book?
My most recent completed book is a book club novel about crime and its emotional fallout, set in Australia ten years ago, during a period of devastating bushfires in the area where we lived. It's a woman's story, set against the backdrop of the temperate rainforests of Victoria, a wilderness that can delight as well as destroy.
This is the novel I started in the 90s in Maryland, so it has been a long time coming. I finally completed it a couple of years ago and have since fine-tuned it several times over. Leaving it for a while and getting back to it with fresh eyes helps me recognize its strengths and weaknesses. I've had some interest from agents and publishers, but a deal has so far eluded me. I shy away from self-publishing because I absolutely hate promoting and marketing. I know I'd still have to do that with a traditional publisher, but I'd like to think I would have the collective know-how of a professional team behind me and not have to do everything by myself.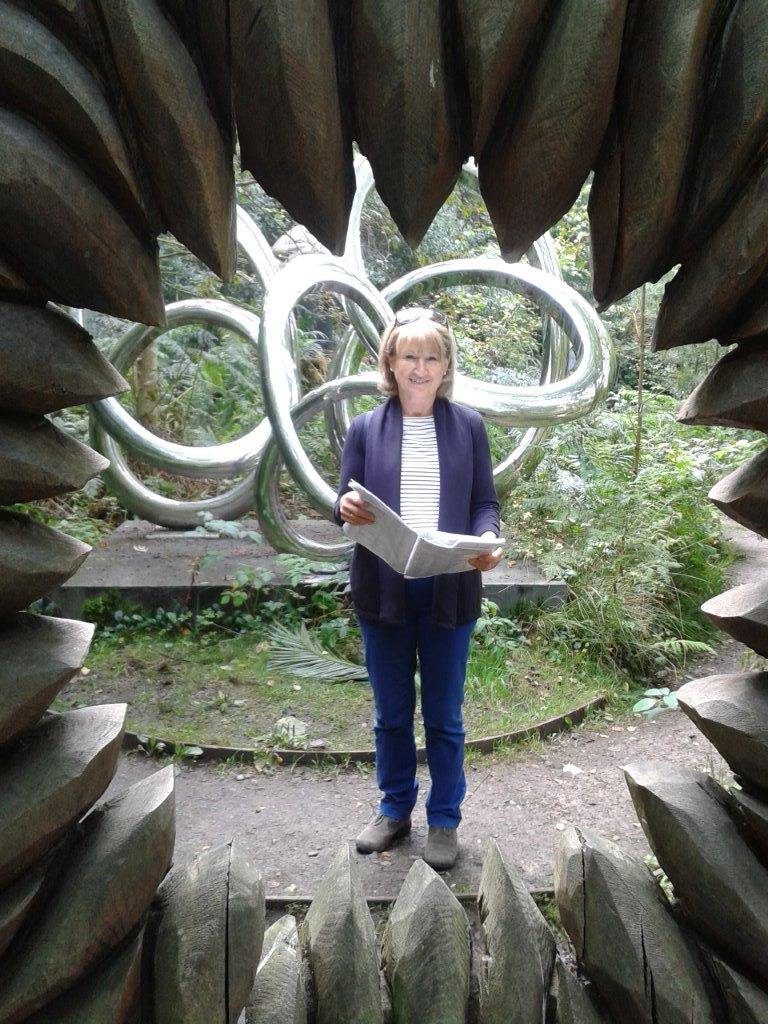 What are you currently working on? How long before release?
At the moment I am working on a World War II historical novel based on the two distinctive voices (in first person singular) of a soldier and the girl he will eventually meet and fall in love with. Unlike most war stories written in English, this one is set entirely on the German side of the conflict – he is Austrian, she Silesian. My aim is to give readers an idea of the great diversity of attitudes and opinions among the people that made up the Third Reich.
The idea for this story has been germinating for a long time. I wrote my Ph.D. on the ideologies underpinning German middle-class morality during the 1920s and 1930s and wanted to put some flesh on the bone of my theoretical study. A few years ago, I inherited my father's war diaries, which provided wonderful insights into the day-to-day life of a soldier in the Wehrmacht. His account helps me get those all-important details right, even though my story is not his, and largely fictional.
I'm about half-way through this novel now.
When you have finished writing the book – what do you do next? By that I mean, do you edit the book yourself? Do you design your own book cover? Do you prepare a project plan to market your book?
I begin by editing a book myself, by which I mean going over it and removing unnecessary clutter, checking I've chosen the exactly right words to express what I want to say, hunting for typos and clichés, that kind of thing. I will then pay for an editor to read the manuscript for style, plot, characters etc. This can be incredibly useful.
For my Australian novel I used an editor chosen by the Writing Magazine, but committed the (common, I'm told) mistake of filing it in the wrong genre, as a crime story. They gave me a crime writer editor, who actually didn't quite get what I wanted to do. It was only later that a publisher suggested what I had was book club fiction (as described above). Which goes to show how important it is to correctly label your manuscript. However, this was all part of the learning curve, and the overall comments I received were still valuable for me. If nothing else, they showed me that I had by no means finished my novel and needed to do a lot more work to make it competitive in the market place and attractive to agents and publishers. My first 3 chapters have since been shortlisted for a number of quite prestigious prizes (I was runner-up for the Cinnamon Prize last year), which shows me I'm on the right track, at least with my beginning!
The book cover for Tigger's story was designed by Matador, with whom I published the book. I loved the design straight away, as it expresses the quirkiness of the story and the aloofness of the author. I've had many compliments about it, too.
For my sins, I did not make a marketing plan for my book. I actually didn't know how to. I tried various avenues, some successful, some less so, got stuck into social media, and was generally frustrated by the opaque nature of the whole thing: it is so often impossible to know which marketing strategy gets you sales, because they so often occur way down the line. I'd like to think I'd do better next time, but I'm not entirely sure!
What is the best piece of advice you could give to someone starting out on a writing career?
Write, write, write! It's the only way to grow as a writer. And secondly, to manage the difficult balancing act of firmly believing in yourself and your great genius while remaining humble enough to be open to constructive criticism and going back to the drawing board whenever necessary.
What are you currently reading?
Elizabeth Taylor: Mrs. Palfrey at the Claremont. Chosen by a discussion group I belong to and not something I thought I would naturally gravitate towards. I started it recently while on holiday and realized on page 2 that I'd already read it years ago! It is very well-written and so wise, I find myself reading some passages several times over. An unexpected treat; I liked it better than last time.
Who do you count amongst your favourite authors?
I have so many, I don't know where to start! For crime novels, I really enjoy reading Tana French. I've read all her books. I love Philippa Gregory's historical novels. They are the ideal standard I aspire to with my own historical novel. I completely admire Hilary Mantel's Wolf Hall and Bring Up The Bodies. Daphne du Maurier's Rebecca and several of Clare Francis' books are my models for the kind of psychological woman's story I want my Australian novel to be. But my all-time favourite is A.A.Milne, both for Winnie-the-Pooh and for his poetry for children. Unsurpassed in psychological insight and rhythm of language!
How important do you think social media is for an author?  What advice would you give to make the most of social media?
My advice is to strictly limit the time spent on social media each day, perhaps to 20 very targeted minutes. It is too easy to waste hours on Facebook and Twitter, and I am not convinced they bring overwhelming results. For anyone not sufficiently computer-literate, social media may well be something they can do without. They may do better spending the time on activities that come more easily.
But for those who are comfortable with the concept, social media are an excellent platform for spreading the word far and wide in a way that would be hard to do in any other way. I created a page for Tigger (Tigger Haywood), managed by, but independent from my own personal profile, which works well. I rarely actively market on it, but I post little stories, cat jokes and photos, which has resulted in a loyal following. I have used Facebook for paid ads, but was unimpressed with the result, and there were additional charges I had not anticipated, so I don't do it any more. My Amazon ads have been more successful, and I like the way you can add hundreds of key words to appeal to more people.
My involvement on Twitter has brought some interesting and quite unexpected results: I created an account not for myself, but for Tigger 🐱(@TiggerHaywood), that has almost 1000 followers, mostly animals – really lovely cats, dogs and their humans from all over the globe. Although we've never met and probably never will, I count them among my friends. They are such a rewarding and supportive group!
Do you like travel, if yes where is your favourite destination?
We are a family of intrepid travellers, seeking above all the last few wild places left in the world, like Western Australia with its fabulous, empty beaches, big forests and amazing rock formations, but I'm also drawn to the west coast of Canada, the lush vegetation of the bear forests, the clean salmon rivers and beautiful coastline.
What do you enjoy doing when you are not writing, marketing, or being involved with your book business? Do you have any hobbies?
I am a keen gardener and get plenty of practice in our large and occasionally overwhelming garden. I also walk a lot, because the countryside around here is lovely; good for the soul. Both activities are brilliant for releasing writer's block. I already mentioned the community work: I am a mediator in neighbourhood conflicts, family feuds and workplace issues. This teaches me a lot about human nature, for the benefit of my fictional characters. I am also Chair of our local 180-strong Arts Society. We meet monthly for talks on aspects of art. Not sure how this benefits my writing, but I'm learning a lot about art, anyway. I am very much a life-long learner.
If you could invite three people from history to a dinner party. Who would you invite and why?
Bertha von Suttner, a Czech-Austrian pacifist who became the first woman to receive the Nobel Peace Prize, in 1905. She was President of the Austrian Peace Society, helped form the Anglo-German Friendship Committee and was a member of the Carnegie Peace Foundation. She also wrote the world's most famous book on anti-war sentiments (Die Waffen Nieder, or Lay Down Your Arms, 1889). Sadly, all to no avail, because World War I broke out a few months after her death in 1914. Her views would be just as interesting today, and I'd like to hear them. She would also get on well with the other two.
Charles Darwin, because of his brilliant mind and the fact that he was brave enough to publish his theory of natural selection as the motor of evolution at a time when this was synonymous with blasphemy. I'd love to hear of his experiences on Galapagos. But it does sound as though he was a rather dour person, so we might need plenty of wine to relax him.
Mahatma Ghandi, who said that the true quality of a people can be seen in the way they treat their animals. It is said that he liked company (including women and children) and liked to laugh, so he should also be a pleasant and entertaining dinner guest. I read recently that he had racist attitudes when he lived in Africa. As this does not go at all with how I imagined him, I'd like to find out what's behind it, and give him a chance to explain.
Thanks Tigger, for giving Susanne the time and opportunity to chat to me today.  You can find Tigger's Memoir on Amazon and catch up with him on social media , oh and his human is somewhere there as well.